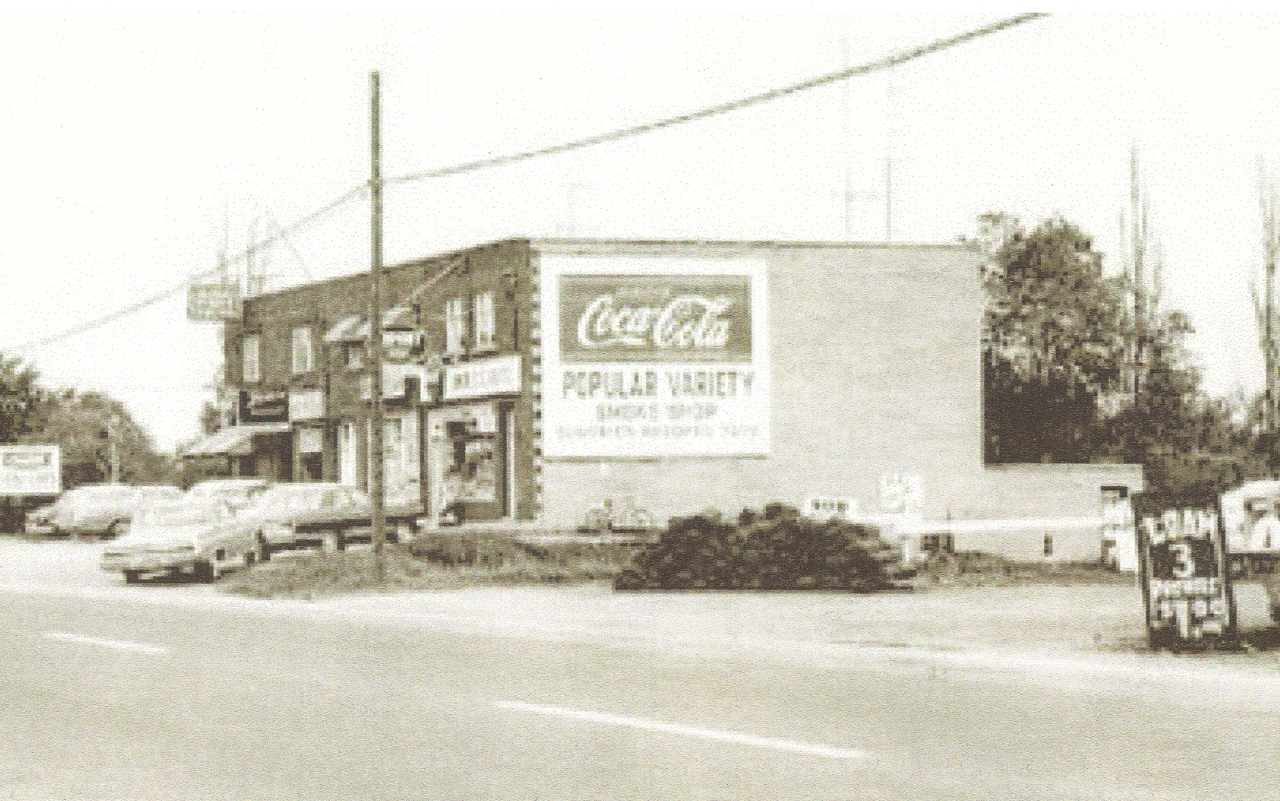 The G&G Story
The humble story of how it all began.
1949
G&G Founder George Tsuyuki and his family are released from a Japanese-Canadian internment camp in northern Ontario.
1952
George attends Ryerson University for small electronics repair.
1954
George graduates from Ryerson and opens Lakeview Television Service
The trailer George turned into a mobile workshop for making home service calls.
1955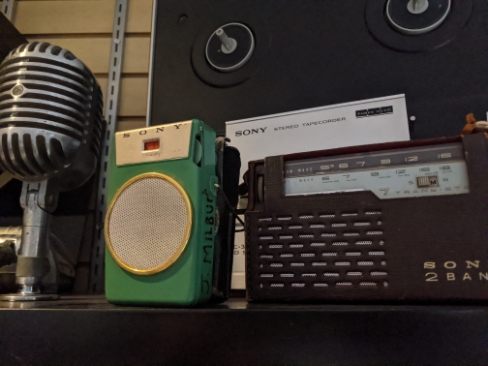 Sony arrives in Canada and George becomes one of the first eastern dealers of their transistor radio.
1956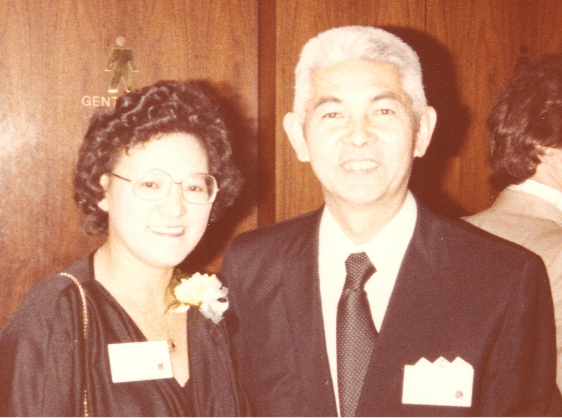 George and Shiz marry and Shiz takes over the business accounting.
1966
Gary is born and George and Shiz rename the business to G&G Electronics.
A sale for school teachers draws a crowd.
THE EVOLUTION OF G&G SIGNAGE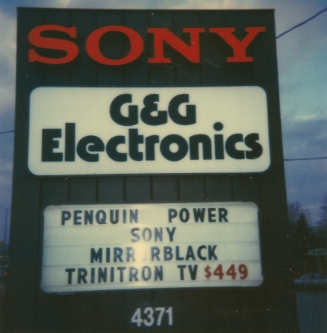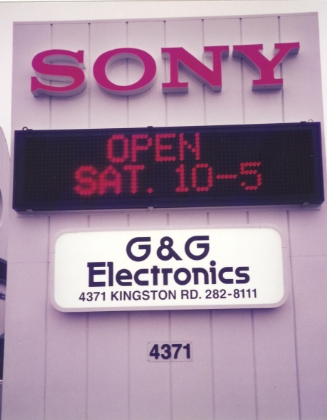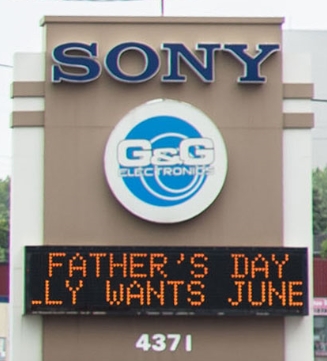 1972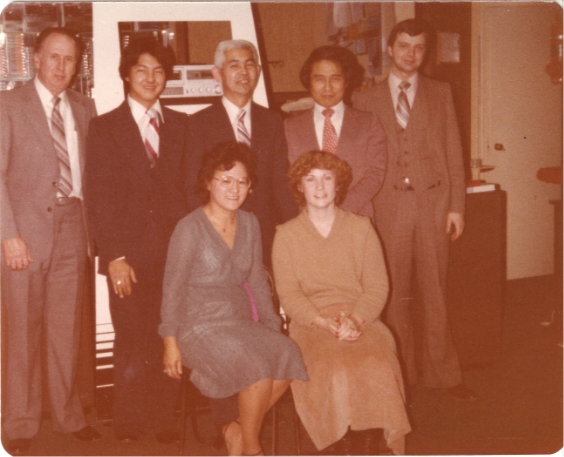 George is recognized by Akio Morita, founder of Sony Corporation, for his exceptional expertise and vending of Sony products in Canada.
More big brands arrive at G&G over the years.


1978
Gary & Cheryl (Gary's wife) take over the business and start taking it to the next level with Sony's expanding products and bigger sales.
1985
A building fire and a triumphant re-opening that lands G&G on the map for the best pricing in town.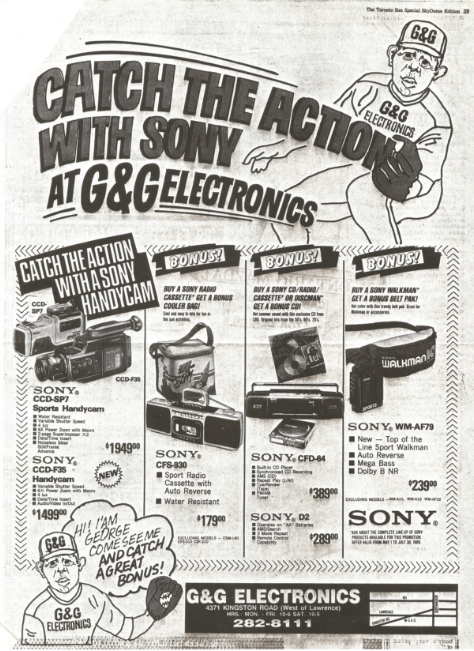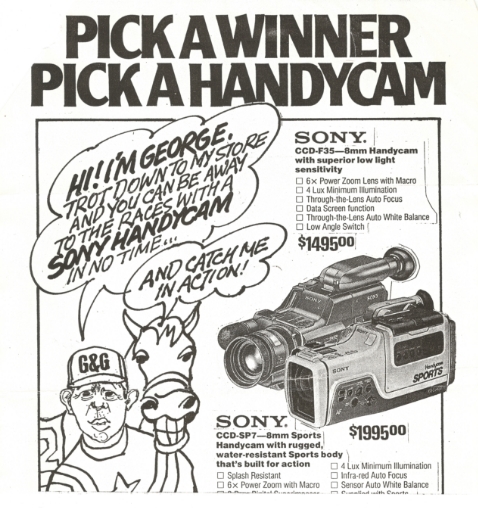 1993
G&G is recognized by the Premier of Ontario, Bob Rae, for significant contribution to sport development in Ontario through corporate sponsorship of swimming
1994
Sony of Canada awards G&G with "dealer of the year" and that tradition continues year after year even to the current year.
1999
G&G Install officially opens with Dave Tsuyuki spearheading the operation

2000
Robert Tsuyuki fully joins G&G expanding the family in the business
2001
G&G renovates interior showrooms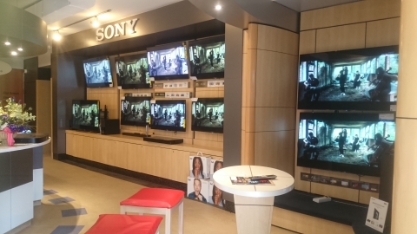 2019
G&G celebrates 65 years of business
G&G Electronics was founded in 1954 by George Tsuyuki. The business has served the Scarborough-Guildwood community for three generations, a legacy built on trust, integrity and perseverance.

Born in Japan in 1929, George Tsuyuki was interned with his family in northern Ontario during World War II. He was released as a young man looking to get ahead in a tough economy. He worked at the Kapuskasing Mill, earning the admiration of one his bosses — Mr. Gibbs — who gave George the money he needed to follow his vocation in electronics.
The first $10 bill Mr Gibbs
gave George
George moved to Toronto and worked as a short-order cook while studying small electronics repair. In the spring of 1954, he used his savings to rent a storefront on Kingston Road and opened his shop, Lakeview TV and Repair, with his wife, Shiz. They built a reputation for their willingness to make house calls after hours. Soon they had their first son, Gary, and renamed the business G&G Electronics.
The TV revolution arrives
With the arrival of Sony and its new transistor radio in Canada in 1955, George, who had kept close ties to the Japanese community, was given the opportunity to become one of the first Sony dealers in Eastern Canada. When Sony unveiled its line of Trinitron TVs, offering the brightest picture to date, George was the first to bring the revolutionary model to the Toronto area.

The new technology gave the store its first big success: TV rentals, including to local hospitals. The business grew steadily. George would pick up customer repairs in the morning, make house calls throughout the day, complete repairs in the evening, only to return to the shop after dinner to get the next round of repairs ready for pickup. G&G expanded, carrying brands like Zenith, JVC, Electrohome, Elac Turntables, Concord Receivers, and Webcor. In the 1970s, business was strong enough for George and Shiz to buy the building their store was in, and George's acumen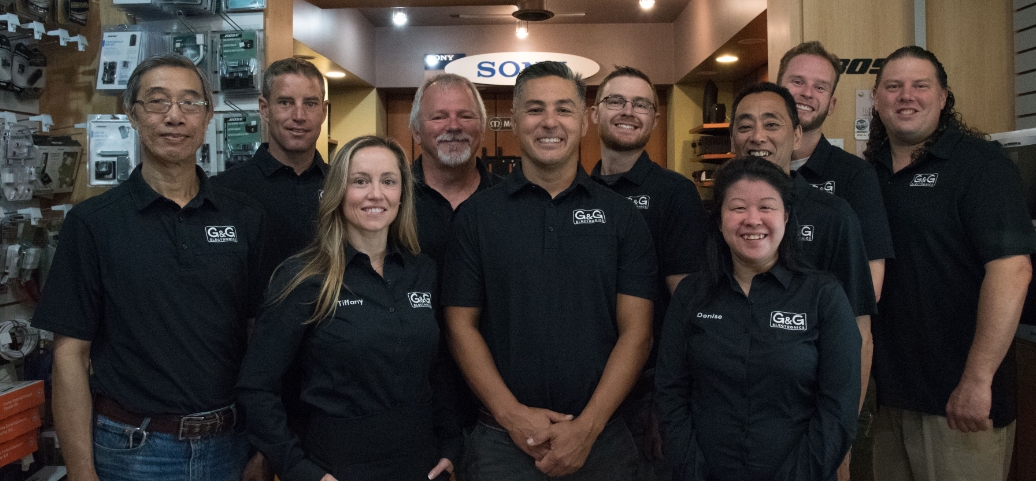 All is almost lost
In the 1980s, George and Shiz handed G&G to their son Gary and his new wife, Cheryl, who had a son of their own, David. Gary and Cheryl pushed for growth, bringing new brands to the store like Nakamichi, Blaupunkt, Panasonic, and Bose.

But the dream was almost lost in 1985 when an electrical fire in the basement set the store ablaze while Gary and his small family slept in the apartment upstairs. They were saved by the barking of their dog in the middle of the night.

The Tsuyuki family was familiar with adversity and turned what could have been a tragedy into another milestone for the business, holding its biggest sale to date: the Fire Sale. It established G&G's reputation as a source of great deals and family service and built momentum that continues to the present day.
A family operation
Over the last 20 years, Dave and his wife, Tiffany, have expanded G&G's installation department to include everything for a home or business, from security cameras to networking, automation, and, of course, audio and video.

G&G Electronics now employs three generations of immediate family and several first, second and third cousins. The business has been a staple in the Scarborough area, donating thousands of dollars to community efforts like the Boys and Girls Club, local sports teams, and the United Way. Now retired, George and Shiz still come to the store from Monday to Friday, watching their family, and their legacy, continue to grow.